Technology
DHDT Carefully Selected Seamless Steel Rod
To guarantee premium quality product, all products material is sourced from Shanghai Baosteel specially developed hot rolling high strength alloy structure rod for oil and gas drilling tools without considering about high cost. This material uses external refining and vacuum degassing technology with even composition and high purity. The lowest content of harmful chemical elements such as phosphorus and sulfur is reached. Non destructive test is performed according to NDT standard Level 2 with combination of eddy and ultrasonic to guarantee raw material quality without any defect.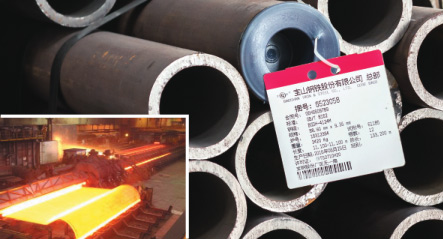 DHDT Scientifically Designed Upset End
Internal and external variational cross sections on upset end are not on the same cross section, especially runout of internal upset taper and runout of external upset taper is not on the same cross section. Use a larger radius to transform between external upset taper and Rod body to reduce stress concentration on this area.Internal upset taper is long, flat and smooth. Transition between
DHDT HDD Drill Rod Manufacturer(supplier) has 8 upsetting production lines, 2 HDD drill Rod body heat treatment production lines, two friction welders and 18 CNC threading machines. Annual output for HDD drill Rod is 300000 pieces.
body and internal upset taper is gentle to reduce stress concentration and improve anti-fatigue service life.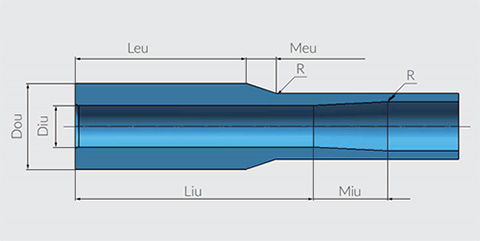 HDD Drill Rod Specification
Upset Type
Length of internal upset taper
DHDT Company Standard
IU or IEU
≥100mm
API SPEC 5DP
≥76mm
Precise Calculation of Upsetting Process By DHDT
Conclusion for DHDT upsetting process confirmed by below steps:
Precise calculation – SuperForge software process simulation – Upsetting test – Small quantity check – Batch check
DHDT Production Process Guaranteed by Precise Manufacture Equipment
It is easier to make drawings and calculations than actually upsetting the upset end satisfying design requirement. The temperature precision of induction heater from DHDT is controlled in ±30℃. Heating length precision is controlled in ±10mm. Location precise of Rod material in die is ±5mm. Rod material length shortening amount precise is ±3mm. Proved by decade years of practice, advanced upsetting equipment from DHDT can fully satisfy upsetting technology and design requirement. DHDT can make promise that each HDD drilling Rod from DHDT is qualified and accepting inspection by customer random selected samples.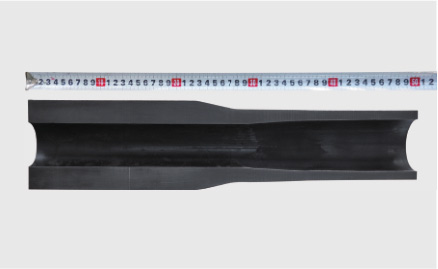 Walking Furnace for Heat Treatment with Multi-point Temperature Measurement Guarantee Perfect Match Between Strength and Toughness
DHDT in Wuxi city of China is the only Supplier(Manufacturer) in domestic who adopts natural gas walking furnace for heat treatment in HDD drilling Rod field. The heat treatment of hardening and high temperature tempering is conducted in closed type of space. Temperature in furnace is controlled by multi-point thermocouple. Furnace temperature uniformity of quenching holding section is 20℃. Furnace temperature uniformity of high temperature tempering area is 10℃. Patented quenching process with accuracy can guarantee Rod body and upsetting area fully austenitizing simultaneously but not bring coarsening of austenite grain size. After HDD Drill Rod finish quenching and come out from furnace, immediately even cooling them by inner spray and outer shower. Cooling speed is faster than critical cooling rate of HDD Drill Rod material. Quenching cracks will not appear and guarantee conversion rate of martiensite especially in the HDD Drill Rod upsetting area. Tempering equipment and patented tempering process guarantee the best match between HDD Drill Rod strength and toughness.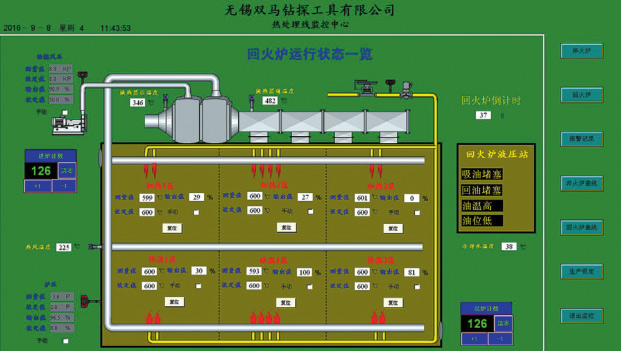 Shot blasting Treatment for Rod Body and Thread Improve Product Anti-fatigue Service Life
Each of DHDT HDD Drill Rod is treated by shot blasting. After shot blasting treatment, surface of HDD Drill Rod and thread gets residual pressure stress. This stress can improve HDD Drill Rod anti-fatigue service life. Shot blasting treatment on thread can help thread compound adhere to thread. Thread service life is improved.

Thread Surface to Be Treated with QPQ Method
Thread surface is treated with QPQ method. Thread abrasive resistance and anti-galling level is leading in the global world.